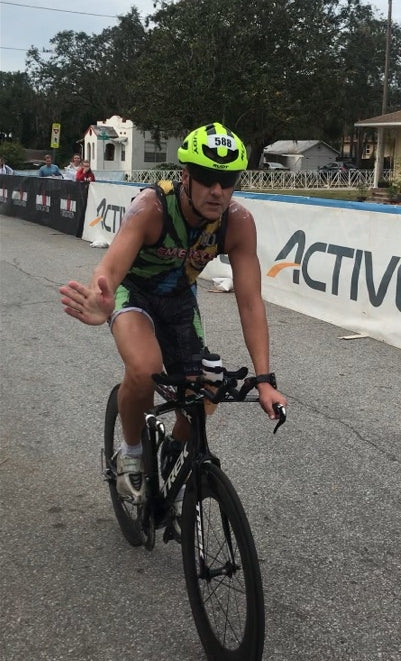 FINISHED IRONMAN FLORIDA WITH A LITTLE HELP FROM PLAYTRI BIKE SUPPORT
Kevin wrote:
I was having a great race until mile 41 on the bike course.  At that point I heard a loud pop and after pulling over I discovered I had a broken spoke.  I waited for bike support to come around and when someone finally stopped he originally said it could not be fixed and offered to call the sag wagon.  That hit me hard. I had done all the training and traveled all the way from Wisconsin to compete.  I have never DNF'd a race of any type and it really was deflating to think I was not going to finish because of a mechanical issue.  He then counted my cassette and called in to discover there was a spare wheel somewhere that even though the gearing was not the same as mine, he could go get it for me and let me borrow it so I could finish.  

I was so grateful that he was out there and that he did that for me.  It means so much to me to be able to compete in Ironman and his support and the fact that your company was there for me in my time of need so that I could finish what I started means the world to me.  Please pass on my deepest thank you to all your staff for being there for me when I needed them the most.  This was my 7th Ironman but luckily it was the first time I have needed support out on the course.  Thank you so much for being there and having what I needed just when I needed it.

I would love to say that I got the new wheel and my race turned out great, but it was not to be.  By losing the time with getting the new wheel, I pushed too hard on the second half of the bike and didn't have enough left for the run, but I was so very happy to be able to finish.  It was my slowest finish in an Ironman to date, but I made it to the finish line.  That would not have been possible without the bike support people.  Thank you.

Congrats to Kevin on his 7th finish at IRONMAN from everyone at Playtri!