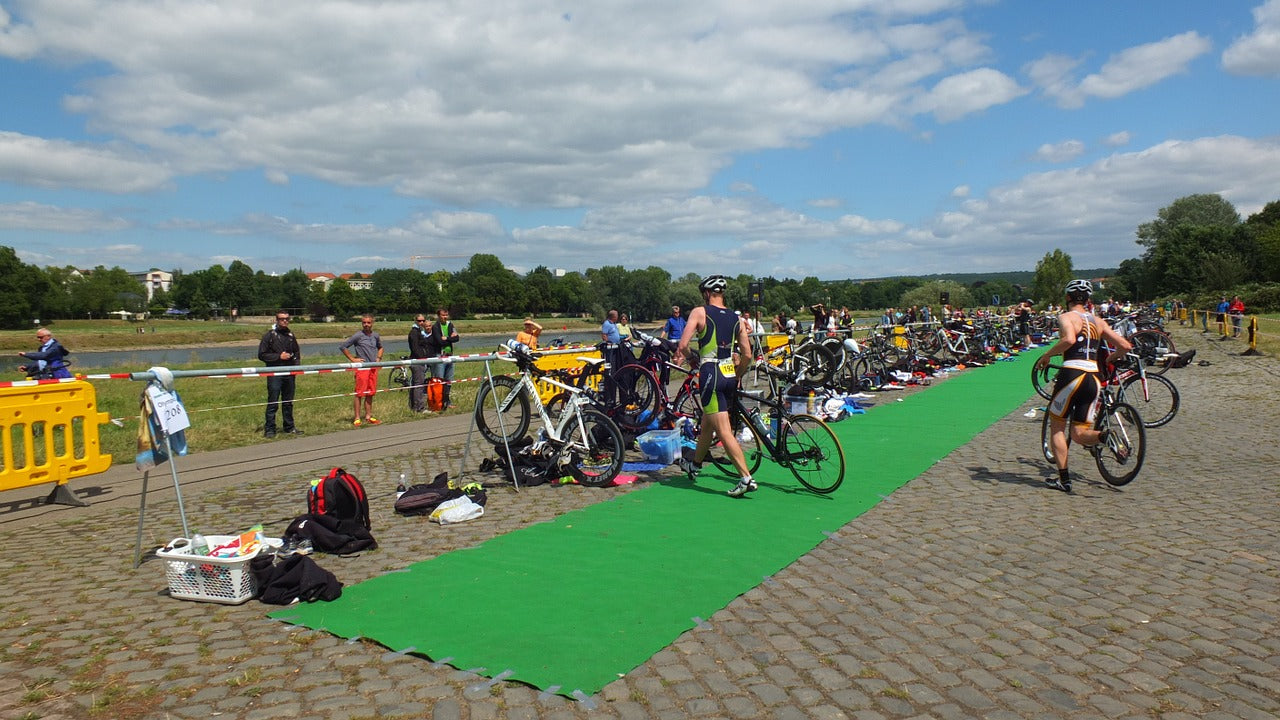 TRANSITION TIPS
"You need to 'WIN' the transitions this weekend!"
True story, pushing the 'free speed' in transitions can be the difference in landing your next PR or podium finish!
Why are transitions considered 'free speed'- maybe the correct term would be finding 'easier speed' than what is required in the swim, bike, or run legs of triathlon.
BUT GUESS WHAT- there are techniques that can improve your transition times. Here my top 3 ways to increase finding your next gear out of T1 and T2:
1- Keep your space TIDY!
You are not moving into nor taking a nap in transition (better yet, you shouldn't be if you are planning on nailing some new goals).
So, minimize the junk. You should have a small hand towel- at the front of the mat: bike shoes (if not starting with them on your bike), helmet on top of the shoes with sunglasses and gloves (if you are wearing them inside the upside down helmet. Right behind the bike gear, place your running shoes, rolled socks to the toe inside the shoes (if wearing them, all you have to do is put your toe in and roll those guys up quickly), then race belt and sunglasses on top of all that.  Notice everything is uniform and easy to grab and go- if you need to put nutrition in there- place them INSIDE the shoes so you do not forget to take with you.
2- Learn to start and/or get off with your toes on bike.
This is a trick- YOU MUST PRACTICE AND NOT SIMPLY 'YOUTUBE' THE HOW-TO ON THIS ONE!
1st master getting OFF your bike (headed into T2) with their shoes attached. 
This may look easy, but your legs are going to feel like Jell-O. You have to focus on controlling the bike and navigating the dismount line and other athletes.
Even slipping the shoes off before the dismount line and simply stepping off the bike in order to not wobble to your bike rack (due to the bike shoes being uneven and even slick)- you will automatically increase your speed. 
The 2nd aspect of this shoes on the bike concept that I emphasize is starting with your shoes on the bike, possibly using a rubber band to keep the shoes in place, and then stepping onto the shoes at the mount line  (step NOT jump yet) in order to work the feet in ONLY AFTER you have gotten up to speed and have the momentum to carry you through as you work the feet in.
The 3rd step I take with athletes is to practice incorporating the 'flying squirrel mount'/ flying mount and smooth, speedy, gliding dismounts.
Lastly, I worry about the speed in which the athlete runs with the bike.  This is last on my priority list because it won't matter how fast you run or come in off the bike- if you can't control the technique it is likely you will actually end up slowing yourself down, getting in the way of another athlete, or falling at the line. Speed will come- see #3 below, work the technique first of each detail.
3- PRACTICE sprinting / fast running a.) with your bike in and out of 'transitions' b.) as if you are leaving T2.
You should be moving fast- your heart rate is most likely going to feel like it is going to pump out of your chest. GOOD! You are doing it right.  But you need to get used to that feeling + you need to be able to focus and work transitions effectively.  You don't want your speed to get in the way of executing the details. Upon leaving T2, I  ask clients to push through to the line and then worry about settling into pace.  Why, otherwise I have some that get a little 'lazy' + this allows the athlete to get their run legs under them with the increased cadence and effort= then we worry about falling into the race strategy / pace of the run.
So here's to finding some 'easier speed' faster transition times = getting you to the finish line, PR, and podium FASTER!
See you at the races and Happy Training.
Author: Amari Holmes