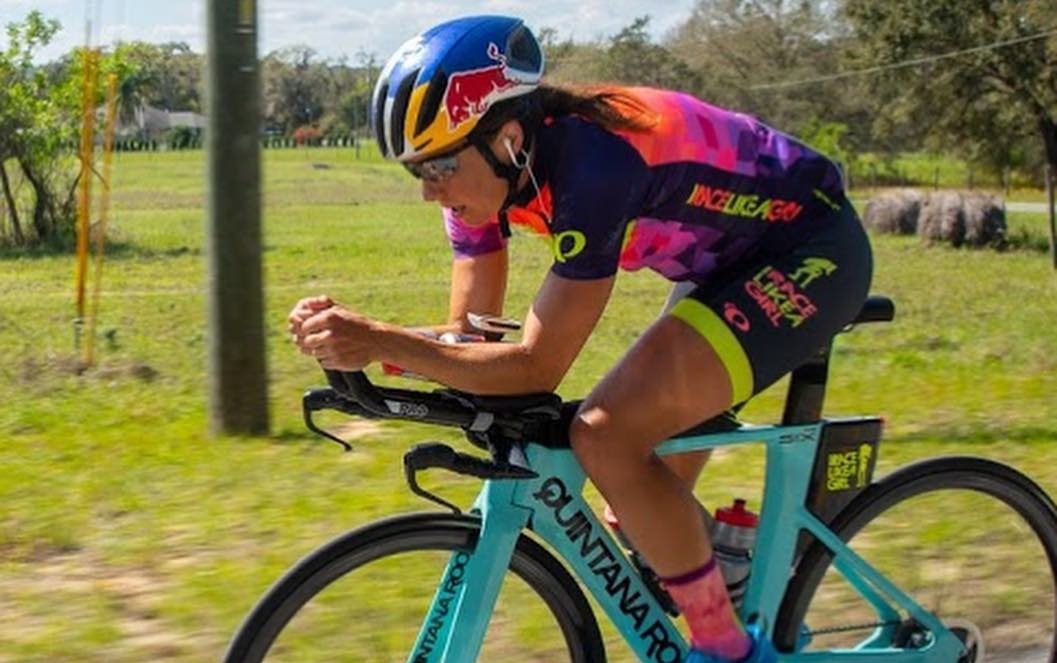 🚲THINGS TO CONSIDER WHEN SHOPPING FOR A NEW BIKE 🚲
 When looking for a good triathlon bike, make sure to consider the following:
Comfort

Brand and budget

Components

Support from the shop

 
COMFORT
Comfort trumps.  You'll want to be sure you're getting a bike you feel comfortable riding in both a technical standpoint, and riding.  Comfort comes from a good bike fit and size of bike, and a good shop will recommend bikes suited to your frame and interests. Consulting with knowledgeable, trusted bike fitters helps to ensure best results with bike fit.  A discussion of the style of riding and where the rider wants to improve– whether speed, handling, turning, etc. – is key. Being able to communicate with the bike fitter in person or virtually allows for the best outcome to learn about the rider and what they are trying to achieve. And always test-ride before you buy!
BRAND AND BUDGET
There are many brands to consider for a triathlon bike and a big part of this decision is budget, so take a look at starting price points for bikes is a good way to determine what to expect you're your budget. Aluminum bike frames are less expensive than carbon frames, which is a major consideration for pricing. You can expect to spend $1500+ on a triathlon bike, or $500+ on an aluminum road bike. Different brands will provide a different fit and feel, so make sure you give yourself plenty of options when looking for that perfect bike! When I looked at bikes, I made sure to consult with my trusted fitter to ensure the Quintana Roo PRSix would fit me and help me achieve my goals. Playtri recommends testing several brands based on the fit assessment if shopping in store, or narrowing down choices with a bike specialist if shopping remotely. Larger shops and brands should provide a satisfaction guarantee program allowing exchanges if the athlete is not completely satisfied.
COMPONENTS 
Personally, I have been a Shimano athlete for a decade, so Shimano is #1 in book for cycling components – I particularly like that they have electronic components at fair prices that make my bike ride smooth and fast! However, there are plenty of high quality bike components and brands to choose from. If you don't know the difference in components, your local shop can help you understand differences in pricing and performance.  I always recommend athletes start by looking at a brand's "middle-of-the-road" component set. I myself use Di2 Ultegra electronic shifting, which has helped me become a stronger and more efficient cyclist. Electronic shifting has become more affordable, and is very versatile. You will want to look at your gearing as well.  For most riders, I recommend an 11-28 rear cassette and 53/39 for the front cassette, which usually allows enough variety in gearing for almost any type of riding.  However, a good bike fitter and shop will make sure you figure out the right components and gearing for your skill set and cycling goals.
SUPPORT FROM THE SHOP
When you walk into the bike shop, you want to feel comfortable right away. If you don't, you have gone to the wrong shop!   You should be able to get measured, talk to them about the type of riding you plan to do, and get answers to your questions.  A good shop will recommend bikes suited to your frame and interests, and give you the opportunity to test-ride those bikes (highly recommended). You should be able to reach out to them, and get answers back within 24 hours whether you call, email or message the store. And, most importantly, you should feel like they want to help you find the right bike for you.
At Playtri, they will work with all athletes to achieve each athlete's goals.
Need help or have inquiries about how you can be more comfortable or ride faster?
Playtri has been outfitting triathletes and specifically women in triathlon for over 18 years with exceptional service, expansive selection and critical knowledge enable athletes from all backgrounds to invest in their health and well-being.
Start here by finding a Playtri store near you: Playtri.com/locations or emailing info@playtri.com so their bike specialists can work on finding the perfect bike for you and your goals!
Happy Training!
Angela