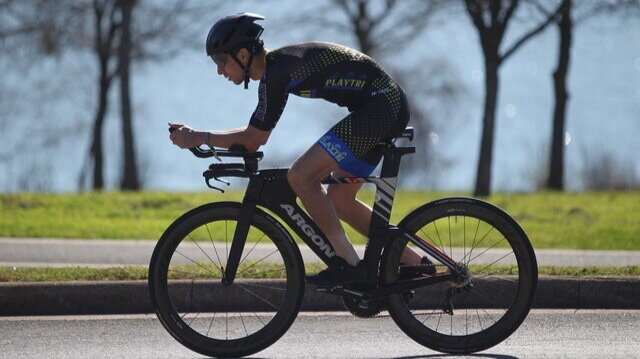 BENEFITS OF A TRIATHLON BIKE
Purchasing a triathlon bike is one of the most exciting purchases a triathlete can make. If you have been racing triathlons on a road bike or you are looking to increase your speed or racing distance or you are ready to go "all in" to the triathlon lifestyle, then it is time to seriously consider purchasing a triathlon bike.
No matter what distance you race, triathlon is a bike dominated sport and having the correct gear will have a positive impact on your racing. Purchasing a bike can be a big investment, so make sure that you invest wisely by including a bike fit in your purchase. Since most of your time racing is spent on the bike, it is important that your new bike be safe and comfortable to ride. Over the years of racing and coaching, I have seen many triathletes who bought top end triathlon bikes and ended up less comfortable, less confident, and a whole lot slower on their new steed because they bought a bike without getting it fit properly at the time of purchase. As a coach I recommend that all my athletes get a bike fit when they purchase a new bike, so that they can be as a safe, comfortable, and efficient as possible.
 Once you have your new (properly fit) triathlon bike, you will start to notice a few advantages built into your new bike.
•   Aerodynamics. Over 80% of the aerodynamic drag produced while riding a bike comes from the rider. Being more streamlined on the bike will help you reduce drag and help you to be fresher for the run. But (and this is important) you need to practice riding in an aero position. If you leave the bike on the wall until race day or ride most of the time with your hands near the brakes, your new bike isn't going to help you much at all.
•   Tri bikes help on the run. Most road bikes have a relaxed seat tube angle while a tri bike have a steeper seat tube angle (near 80%). That steeper seat tube angle lets your hamstrings and calves rest a bit more than on a road bike, thus saving those important running muscles for when you leave T2.
•   Storage Features. Most triathlon bike models these days have built in storage options for flat kits, nutrition, and hydration that are convenient for the triathlete to access during a race. Also, these storage features are part of the bike design, thus making them more aerodynamic than the seat bag and bento box you might have attached to your road bike.
If you are looking to be more competitive in triathlon, then a tri bike that fits well is essential. Although you technically can do a triathlon on any bike that is safe to ride, the features of a tri bike go a long way in helping you reach your goals.
Coach Jim Rowe is a Playtri Level 3 Coach, and also holds a USA Triathlon Level I Coaching Certification, a UESCA Triathlon Coaching Certification, and a TRX Coaching Certification. He can be reached at jim.rowe@playtri.com.