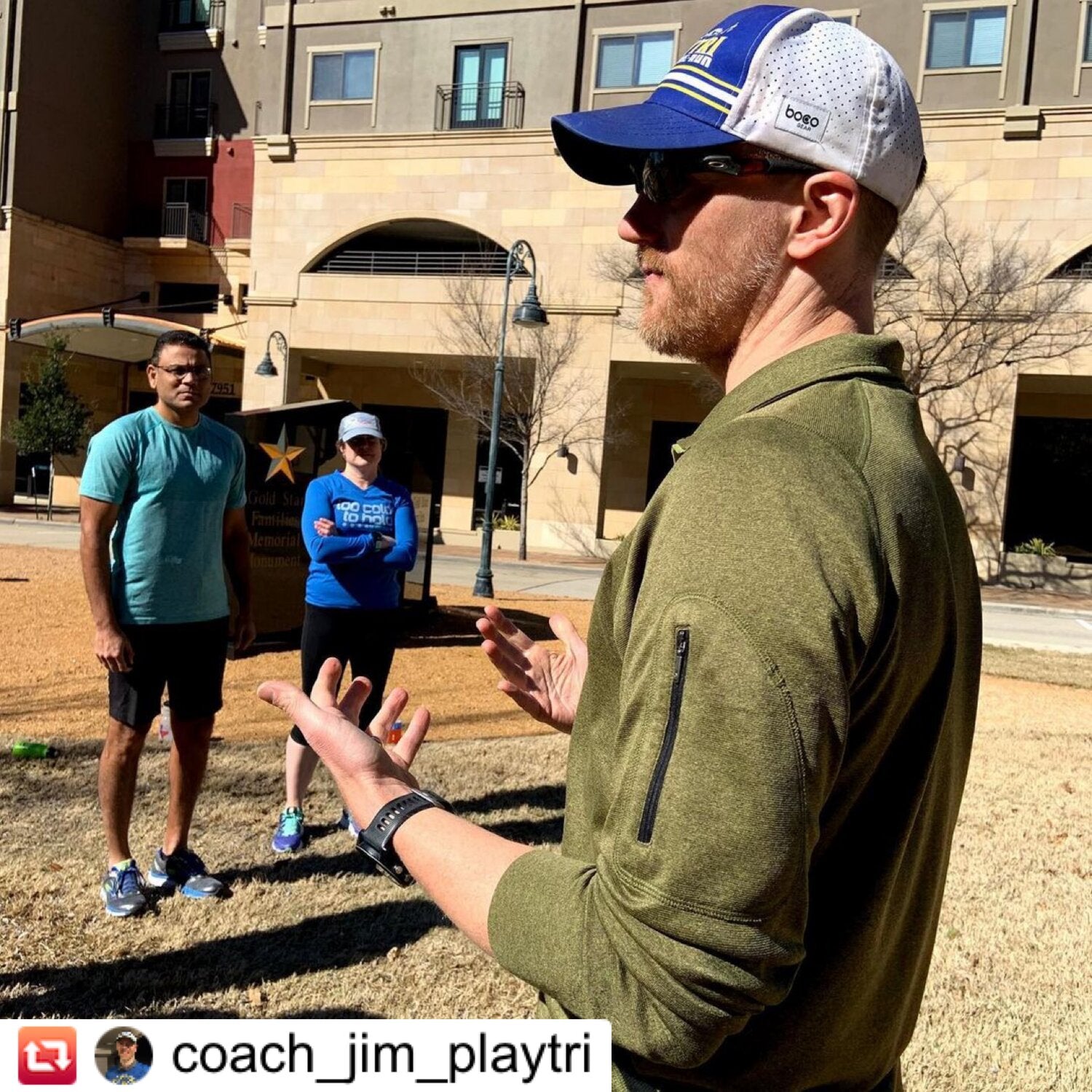 MEET COACH JIM ROWE
Coach Jim has been with us here at Playtri since 2019 - we've enjoyed watching his athletes succeed, and we're excited to share some of what makes him such a great coach!
How long have you been coaching triathlon? How did you get started as a coach?
I've been officially coaching triathlon since 2018, although I had been informally coaching a couple athletes before then. I really got my start in coaching after a serious shoulder injury in late 2016. I wasn't sure if I was going to be able to compete in triathlon again after that injury, but I knew that I wanted to remain active in the sport and coaching provided the best way for me to remain involved and pass on some of my experience as an age group athlete.

How long have you been coaching with Playtri?
I have been working as a coach with Playtri since February 2019. I had recently moved to the DFW area from the Hudson River Valley in NY and after connecting with Coach Morgan Hoffman through social media, I set up a time to chat with her about the triathlon scene here. During our chat Coach Morgan invited me to join the Playtri team, and after some more conversation about Playtri's coaching and business models I knew it was an excellent match. The entire Playtri team is committed to helping people achieve a healthy lifestyle through the sports we love — triathlon, cycling, running, and swimming — and I knew that I wanted to work with people who were as passionate as I am about a healthy, active lifestyle.

How would you describe your coaching philosophy?
My coaching philosophy is grounded in helping my athletes to develop consistent and sustainable practices that help them reach their goals. I work with age groupers like me. They have busy schedules with work and/or family commitments that take up a large part of their day. They love their other commitments and they also want to take time to reach their endurance goals. We work together as a team to find consistent and sustainable workout practices in the midst of a time-crunched life.

What are the top three things you think an athlete needs to reach their potential?
Consistency: Day in and day out consistent work is better than huge, adventurous workouts.

Progress is better than perfection: strive to be a little better today than you were yesterday.

An attitude of gratitude: being thankful for the ability, time, and support that we have to achieve our goals goes a long way in endurance sports.

Top three gear items you like your athletes to train with?
A swim snorkel: This is the best tool for improving your swim form.

Garmin 745 or 945 watch: these two models, although more expensive, provide excellent training/racing tools for athletes and lots of data for your coach.

Mini bands: strength training is often neglected by triathletes. During this pandemic I've talked with a lot of triathletes who are spending more time sitting and thus have increased weakness in their hips and glutes. Adding mini bands to strength training exercises like squats, glute bridges, side planks, and lateral squat walks help strength these important stabilizing muscles.

What do you love about triathlon?
I love the supportive community! Even though triathlon is raced as an individual, there is great support from fellow triathletes no matter if you are the first finisher or the last.

Favorite race?
Although I prefer racing 70.3s, my favorite race has to be the Playtri produced Water Works Sprint in Denton. It's just down the road from where I live, so it's nice to be able to sleep in a bit on race day. Plus you get to use the wave pool and water slides after the race! Although my most memorable race, which no longer exists, was a non-Ironman branded 70.3 I did years ago in the Catskills Mountains in NY. The warmest part of the race was the swim! 60 degree water temp and then 40 degree air temp with a steady rain.

What do you do when you're not coaching?
My wife and I have two young daughters, so whether we are living in a pandemic or not, I spend a lot of time with them. Pre-Covid I regularly took them to dance classes, swim lessons, coaching soccer, and the like. These days, the girls and I spend a lot of time outdoors working in the garden, going for walks, playing on playgrounds, and generally being active.

Anything else we should know about you?
I really enjoy connecting with age group triathletes through clinics and one-on-one or small group training sessions. I'm leading at least one virtual clinics a month on Facebook Live through June this year. I'm also available for swim sessions at the Playtri pool in McKinney or one-on-one training sessions in Denton, McKinney, or at our Dallas store.
You can learn more about Coach Jim at www.playtri.com/jim-rowe, or shoot him an email at jim.rowe@playtri.com.