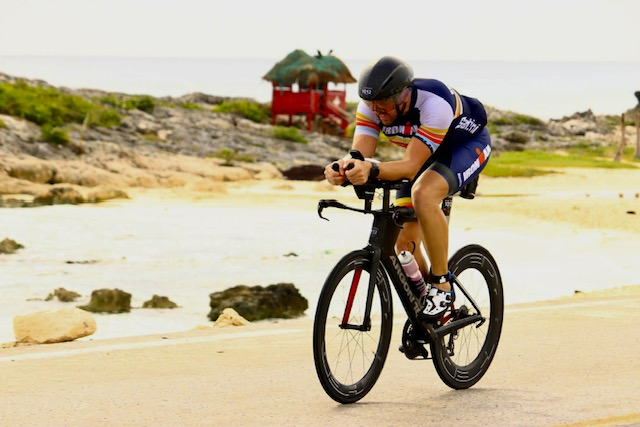 MEET THE ATHLETE: CODY TINGLE
Cody is a Playtri coached athlete who recently finished his first IRONMAN in Cozumel (with a fantastic 1st IM time of 10:33:15) - read on to learn more about his experience!
How did you get started in triathlon, and how long have you been racing?
I got started doing triathlons in 2012. I was an athlete in college and played baseball, once I stopped playing baseball I got very out of shape and gained quite a bit of weight. I was in my 4th year of med school in 2011 and decided to make the decision to start running again and losing all that extra weight to get healthy again. My mother had been doing triathlons for years prior to this so I had been around triathlons watching her, when I moved for residency in 2012 I decided to start doing triathlons with her so I bought a cheap road bike and started cycling for the first time. I did my first triathlon and finished with a terrible time, but I finished it which was a big accomplishment. My swim was a 2:00/m pace, bike was a 19.5mph and run was a 9:30 pace. I told myself at that point that I can do this and I'm a better athlete than most of these guys out here. That next year I trained a lot more on my bike and got faster. Within a couple years I was averaging 23.5mph on bike and running 7:45 pace on run at same event. It felt amazing to see those numbers getting faster as I put more effort into my training and being able to move up the rankings, I've been hooked ever since. Now I'm going for podium finishes in local races and being top 10% in the bigger national races.
What do you do when you're not doing triathlon?
So this year I didn't do much when not training as I trained for my first IRONMAN and it took the vast majority of my free time - but I'm a physician so I'm pretty busy the majority of the day. When I do have free time outside of training, I like to play golf in warm months and deer/duck hunt in winter months. I have 2 kids so I also try to be involved in their activities and doing nighttime routine with them. I also enjoy going out on the weekends having drinks and dancing with my wife (Morgan probably doesn't approve of this, though, so Morgan forget I said that).
Note: Coach Morgan says an occasional drink and dancing is 100% allowed, as long as you pull any dance moves that put you out of commission the next day!
How long have you been training with Playtri? What's your favorite part of being a Playtri athlete?
I started training with Playtri in April 2021. I decided that I wanted to do an Ironman 70.3 and dedicate training this year to doing one. With that I wanted a bike that was actually set up for me and not something that I bought and tried to fit me after. So went to Playtri and Coach Morgan fitted me on half a dozen different bikes and found a perfect fit. While we were there we spoke about my training and if I had a coach to help focus my training. I had already thought about getting a coach but just hadn't pulled the trigger on one, I knew of a few from different triathletes. Did some research on Playtri Coaching and decided they had the same goals that I had and specific training for me. Not just some training plan someone has made and just follow it. Anyways, none of the coaches were available to pick me up so Morgan dropped the hammer and was like I'll train you, let's go!!! I love how my training plan this year has been specific to me and my abilities and progression. She plans it based on when I'm most available to do certain sessions and gives me flexibility to move them around if I need to. I'm out of town but I did like going to some of the open water swimming sessions on the weekends when I could. Having coaches there and getting some advice and coaching was very helpful. Having my coach nearby to me was important as well as if I needed to come by for something I could. One very important part of being coached by PlayTri is the ability to do research on my running and cycling like lactate testing caloric testing. Also sweat testing was important during those hot months to keep from cramping. I also got very detailed race plans for each race in my nutrition and hydration plans along with setting certain pacing with each section so I didn't burn out too quickly. All of my training leading up to each event and hopefully peaking at just the right time.
Any big accomplishments this season you can share with us?
YES!!! I had more accomplishments this year than every other year combined and I owe it all to morgan and her dedication to my training.
1. I wanted to PR my local triathlon race, RCT, as this was a benchmark for me to see how I compared to my best year previously. I PR'd it by 5 mins. Went from a 1:30 to a 1:25.
2. On that race I got 2nd place in my age group, my previous best place finish was 10th there.
3. My first event this year was Playtri's Olympic distance triathlon in May, I got a 3rd place podium finish there. That was the first time I had ever got a podium spot.
4. At the Playtri triathlon, I qualified for USAT Nationals Olympic distance. First time I had ever qualified for any national event.
5. At my local event (River Cities Triathlon), I qualified for USAT Nationals Sprint distance.
6. I completed my very first Ironman 70.3 in Lubbock in June. That was an accomplishment in itself but I also qualified for the IRONMAN 70.3 World Championships!! That was not expected by me or Morgan.
7. Competed at IRONMAN 70.3 World Championship in St George, that was the hardest race I've ever done, and I finished in the top 1/3 of my age group (which I was very happy with considering it was invitational only and I very well expected to be at the back of the pack compared to all the other athletes).
8. This is definitely my biggest accomplishment, competing and finishing my very first full IRONMAN!!!! This was at IRONMAN Cozumel in Nov 2021. Had an amazing race, peaked at the absolute best time, felt strong throughout. I had some personal goals of completing swim in under 1:10, did it in 55 minutes. Cycling at 23mph, had a 24.1mph pace till my flat at mile 77. Ended up with a 23.2mph pace still. Finishing in under 11 hrs and while it was still daylight out, finished in 10:33 and it was still daylight as I crossed the finish line. That was such a thrill and a release of emotions that's hard to describe.
What is your favorite race?
My favorite race this year had to be my full Ironman because it was such a huge accomplishment for me and I just killed it from my perspective and goals. Also being in Cozumel for the race was a cool place to do it at. Swimming in the crystal clear ocean water would get distracting at times watching fish or looking at the coral. Biking along the coast and watching the waves crash on the beach shore. Running down Main Street and having the crowds out there just screaming and cheering you on the entire race was amazing. Crossing the finish line and hearing, "from Shreveport, Louisiana… Cody Tingle, you are an IRONMAN!!!" I'd been waiting to hear that for 9 months so how could it not be my favorite!
What is your favorite piece of equipment you're currently using?
Not even close, my Argon 18 Tri+ Bike. It fits me so well. It's fast. I love cycling the most out of all 3 anyways and this bike has just pushed me further forward. At Ironman 70.3 Lubbock I average over 24mph. On my local time trials I killed my previous best times. My best was a 25.76mph average.
Most important lesson you've learned from doing triathlon?
Doing proper training, hydration and nutrition. I've done races but never really trained specifically for a certain race. I also never even thought about how much to drink, taking electrolytes and using carb fuel during the race. These were all new to me and no doubt made a significant difference in my training and racing. Lesson being that there is so much to learn from knowledgeable people that have been there and done that. Having a coach teach me these things and being open to be coachable is the most important lesson. You have to trust the guidance and coaching being given to you and know it's only for your benefit.


If you could give new triathletes one piece of advice, what would it be?
To start slow, don't go try to do an Ironman 70.3 as your first event. Start at some local sprint races and get a feel for it. Having a coach is a huge benefit but to just get started you don't have to be coached. But talk to people who have been in the sport for years and have numerous races under their belt. There's so much knowledge out there that if your willingness to ask and listen, will be of so much benefit in training and racing. Also get good equipment, get shoes fitted to your stride and foot strike. Get a bike and have it fitted to you, this will make you actually want to go bike when you feel good on it.
Cody, thanks for sharing and CONGRATS on an awesome first IRONMAN! We're looking forward to sharing the journey with in 2022.
Learn about all of Playtri's coaching programs at www.playtri.com/coaching.