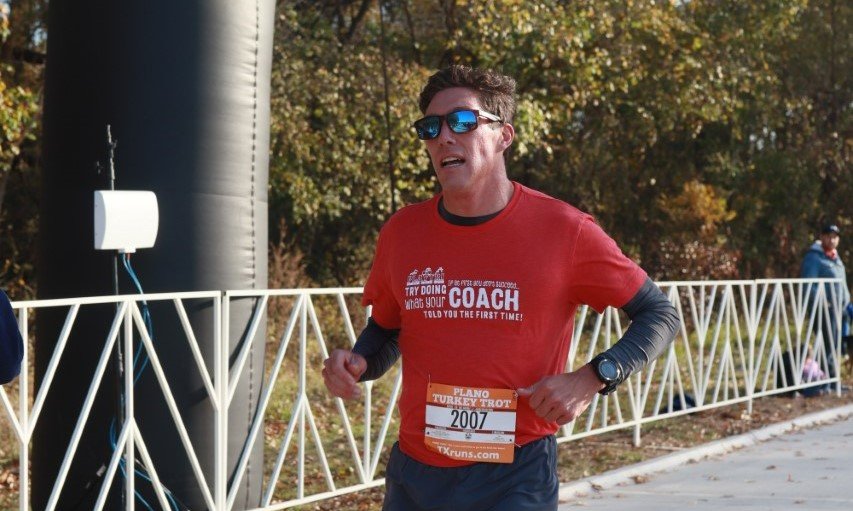 MEET THE COACH: RYAN SIEBERT
Playtri Level II Coach Ryan Siebert began coaching with us back in April, and has quickly grown into his role as an individual coach on our team, as well as one of our junior elite coaches! Read on to get to know him better.
How did you get into triathlon?
I did my first triathlon at 10 years old. The Holtzville pool sprint triathlon on Long Island, NY. My mother was my influence as she was a highly competitive triathlete herself in the 80's. She had some great results and competed in the Ironman World Championships in Kona in 1985. In high school, I began cycling and walked onto the swim team after giving up my NHL ambitions. So my junior year, I started racing triathlons more frequently and had quick age group success and wanted to turn that into overall success. I was fortunate to be introduced to a coach that has had a major contribution to my life as a whole but guided me to the top of the local podiums and beyond. I love the challenge of the process to the race and the variation from the three sports.
How long have you been racing and what are some aspects of your triathlon career that you are especially proud of?
I have been racing for 13 years. Even though I took some time off seriously competing while in the Air Force, I still found myself in the odd race here and there every year. Some victories stand out among others, but my favorite has to be when I won the RJA Memorial Mighty Montauk on its 30th anniversary and joined my mom on the list of winners.
What do you do when you aren't doing triathlon?
I still enjoy some hobbies from my old job: skydiving, scuba diving, rock climbing. But recently I've been spending time learning how to code. I enjoy the problem solving and don't think the need for that skill is going anywhere any time soon.
What made you want to be a coach?
Triathlon has taught me many lessons that apply to all aspects of my life. Nothing comes free in the sport. You have to work hard and consistently to have success. And it never gets easier, you only go faster. These principles can bring you success in anything you apply it to and that's the big picture I want to show athletes. In the short term, it's very rewarding when athletes have success in workouts or races and accomplish something they never thought was possible.
In your opinion, what are the top three components necessary for athletes to be successful in triathlon?
Consistency, patience, discipline
How do you tailor your coaching to help age group athletes with limited time achieve their goals?
Starting off with an honest conversation about tailoring their goals to their availability (ie a particular goal may have to wait 9 months to be accomplished instead of 6). Then making the most of the time they do have. When high volume is important I need to write a plan that capitalizes on the time they have open without sacrificing the other aspects of their life such as family time and work.
You've got a strong cycling background - what are some of your favorite bike handling drills for triathletes?
The parking space figure-8 is a valuable drill with low requirements. Completing figure-8's while staying inside the lines of a standard parking space force you to manage your body weight distribution and balancing pedal pressure and brake application.
A drill I have been doing with my juniors is having them stack cones as they ride by. This forces even more weight distribution management and brake application because you have to lean over to one side as you ride by as slow as possible to place a cone on the ground over another.
Contact partner drills is another valuable drill that can help every cyclist but especially those interesting in competing in draft-legal triathlon or standard cycling races like the criterium that are popular here in flatland-Texas. Riding side by side another cyclist bumping
elbows and leaning into each other to fight for a line will help you stay up when this happens unexpectedly in a race. This is best done on a grass field and with people you won't hold a grudge over if they knock you over.
What is your favorite aspect of coaching with Playtri?
The community. Everyone that trains with Playtri has their own individual goals and unique athletic and life backgrounds that they bring to the table and everyone benefits from that melting pot.
Anything else you think we should know about you?
I served 6 years in the Air Force Special Operations community as a Pararescueman. We performed search and rescue both stateside and in combat. We deployed unilaterally as well as individually with other Special Operations teams, acting as point of injury medics and technical rescue specialists.
Check out Ryan's coaching page at www.playtri.com/ryan-siebert, or contact him directly at ryan.siebert@playtri.com.