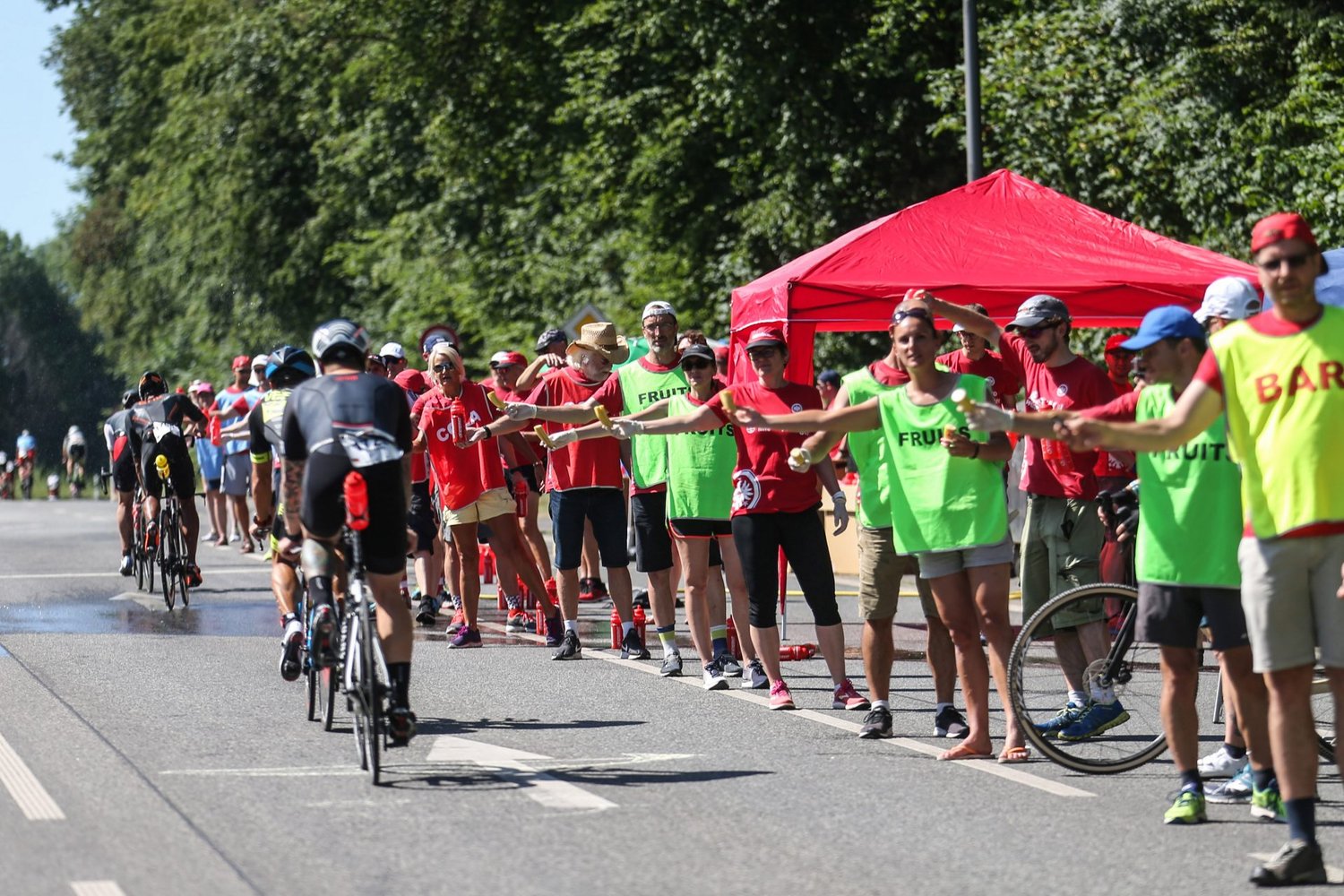 NUTRITION + HYDRATION FOR LONG COURSE RACING
Nutrition and hydration is the number one topic that comes up in my work as a coach with a wide range of endurance athletes. Whether it's a first time Ironman, ultramarathoner, Ironman World Championship Qualifier, or a randonneur, this is the topic that gets the most discussion. Why? Because it can make or break your race. Since the triathlon season is just around the corner (I just received my athlete check in email for Ironman 70.3 Texas), this topic seems timely.
As a coach, I want you to have a very simple and systematic approach to your nutrition and hydration on race day. Your nutrition and hydration strategy should be repeatable and easy to follow because your focus ought to be on the race and not trying to count calories. This strategy can be developed through two different approaches: trial and error; or testing your sweat content, your calorie expenditure, and knowing your heart rate zones.
Through testing we can determine what heart rate zones are the best for you based on the amount of calories you burn at different heart rate levels with a Vo2 Calorie Expenditure Test, and we can determine how much sodium you need to replace with a Sweat Test. Then we can figure out which hydration products offer the best sodium replacement for you and how many calories you need to consume during the bike and run. We then use these products during Key training sessions to make sure they sit well in your stomach and do not cause any gastrointestinal distress.
Testing is the best way to get these results but it may not be possible for you to come to Dallas for these tests if you live further away or if finances are tight. If that is the case, then trial and error is the way to go. With this approach you need to be incredibly systematic in your nutrition & hydration trials. Take notes on everything. Weigh yourself naked immediately before and after your longer key training sessions so you know how much water your have lost. Write down how much sodium, water, and calories you consumed per hour so that you can make adjustments as you continue in your training. Those who menstruate should track where they are in their menstruation cycle since different phases can effect hydration levels and performance. Whether you go with testing or trial and error, a general rule of thumb is to keep weight loss to less than 2% of your starting body weight. Any more than 2% means you are experiencing a level of dehydration that can be detrimental to your well being.
As you start out working with a coach or figuring out your nutrition and hydration strategy on your own, here are some guidelines to get you started.
Female athletes can look to consume at least 1 bottle of low calorie electrolyte drink per hour and 150-250 calories per hour on the bike. On the run, start with 100-150 calories per hour and hitting the aid stations for hydration. Male athletes can look to consume at least 1 bottle of low calorie electrolyte drink per hour and 250-350 calories per hour on the bike. While on the run, start with 150-200 calories per hour and hitting the aid stations for hydration. As a starting point for hydration, I recommend products from Skratch Labs, Precision Hydration, and The Right Stuff. For nutrition, I recommend Honey Stinger waffles and gels like GU. The amount you drink and eat changes based on intensity and environmental factors like temperature, humidity, and elevation.
If you plan to use the nutrition and hydration that is available on course, then practice with it throughout your build to race day so that your gut is trained accordingly. And if you plan to bring your own nutrition and hydration then think through the logistics of how you will carry your nutrition and hydration for the entire race. Will you create a "super bottle" or two of your hydration product to sip throughout the race and supplement with water at aid stations? Will you rely on extra bottles of hydration product in your special needs bag? Will you use salt capsules for the run? How will you carry your preferred nutrition products on the bike and the run?
If you are only now just thinking about this, it may seem overwhelming. Do not be discouraged. Every body is different, which means every other athlete on course with you will have had to think through this as well. Part of the excitement of coaching endurance athletes is working with them as they figure out what will sustain them in their races. The other part is celebrating their successes!
Jim Rowe is a Playtri Level 4 Coach, a USAT LI Certified Coach, and NASM Certified Personal Trainer who works with adult athletes of all abilities from beginners to IRONMAN World Championship qualifiers. Learn more about Jim at www.playtri.com/jim-rowe.