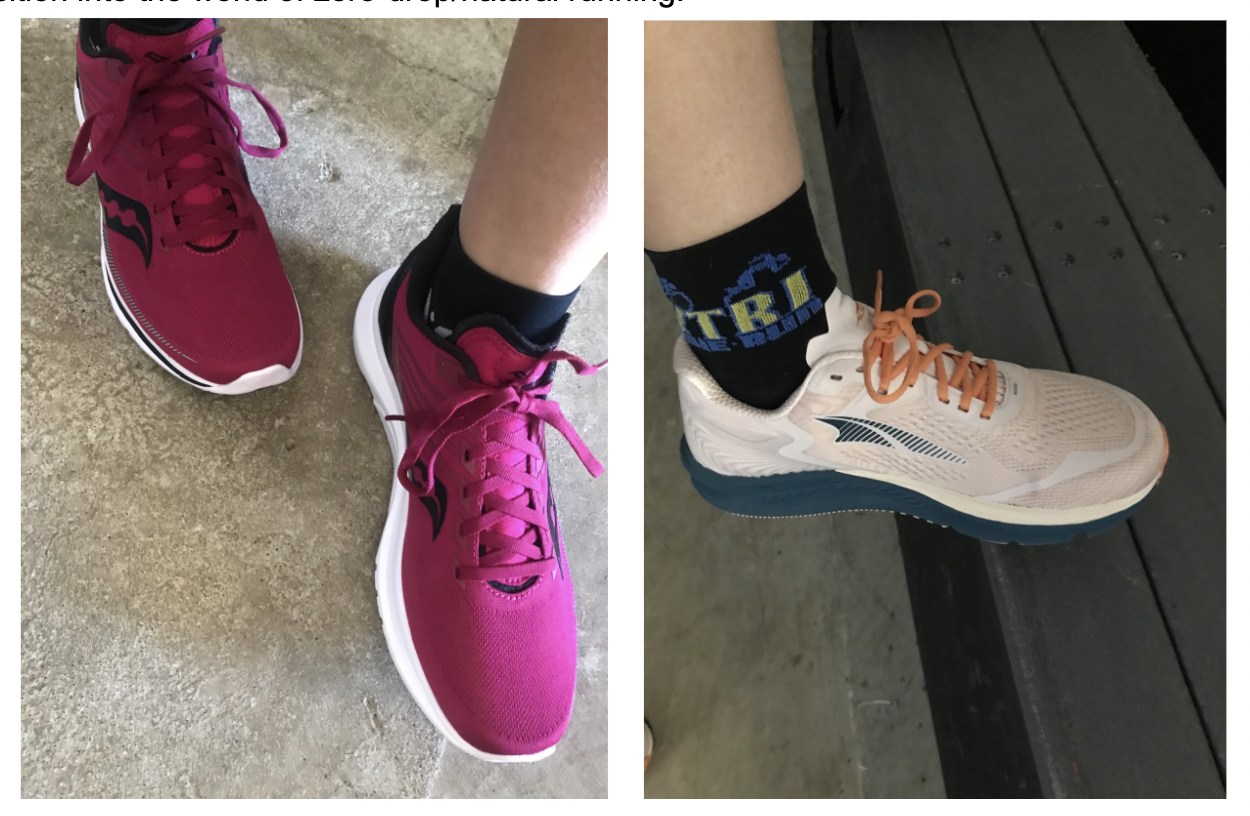 SAUCONY KINVARA AND ALTRA TORIN REVIEW - HEEL TO TOE DROP VS. ZERO DROP
Saucony Kinvara and Altra Torin Review - Heel to Toe Drop VS. Zero Drop
Trying to find the ideal running shoe these days can feel like looking for a needle in a haystack. Words like light, stiffer, flexible, neutral, stability, pronation, rocker, and heel drop stats are just a few examples of words peppering packaging boxes and product reviews. With all the choices out there, it's easy (and common) for many athlete's to just end up picking something that "feels comfortable" and/or "looks cool". And a few miles later, we start to suffer the consequences of those choices.


As a runner that tends to fall in line with the majority of people, I run in neutral shoes for road running. This means that the shoe itself doesn't have any structural changes that promote compensation in the sole of the shoe pitch to the inside or outside of the foot. And recently, I spent some time testing out and comparing the difference between two popular neutral shoes - the Saucony Kinvara 12 and the Altra Torin 5.


This 12th generation of the Kinvara has brought some great looks while shedding some weight in the simple upper, and kept the "fast, flexible feel" that long-time fans have loved. With a heel offset of 4mm, it is one of the more "natural" feeling shoes while still great ground feedback. I really love how natural the shoe feels while not compromising my calves and ankles on longer runs. Though traditionally made for shorter, faster runs, this shoe was a fantastic partner in a 50k run, and the subsequent training to it. Whether a quick jog on the treadmill, or long road miles, this shoe held up beautifully. And at only $110 MSRP, it's one of the lowest priced, high performance shoes on the market.
Positives: The flat laces cinch tight, and it truly felt like nothing on my feet.
Negatives: The slimmer toe-box required me to move up a half-size for longer running. 
Altra's flagship neutral road shoe, the Torin, has had many changes since it's first introduction. The Torin 5 is the latest in the progression of a company always working to bring the most comfortable and supportive feel to the world of zero-drop shoes, while maintaining their Signature Footshape, a wide toe-box allowing for a more natural spay of the foot as it hits the ground. Compared to the more narrow toe-box of the Saucony, I loved the wider design in Altra, as it allows runners to wear their "true size". With an increase to the heel collar padding, I really could feel comfortably "locked-in" to the shoe, and quickly fell in love with this "natural" shoe. Just remember, if you're not used to wearing a zero-drop shoe, I'd recommend cycling it into your run routine with shoes that you're body is used to as your calves adjust. Hesitations: Though the shoe had a flexible, thin tongue, it seems higher than normal, and I was hesitant I wouldn't have issues. Much to my surprise, the tongue was not an issue tested up to 10k (though extremely long runs might prove otherwise). Heftier price at $150MSRP.
Positives: Immediate comfort that feels supportive but light. True to size.
Negatives: Slightly heavier than the Saucony Kinvara, tongue a little invasive.
All in all, if you're a neutral run-shoe athlete, these two are great choices for your everyday road running. The Kinvara would be a great speed companion, while the Torin would be a great transition into the world of zero-drop/natural running.