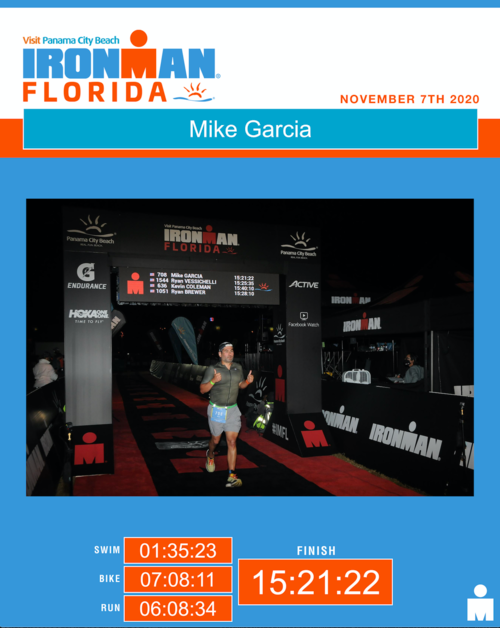 Crossing the Finish Line with Playtri at IM Florida
Playtri athlete Mike Garcia finished his first IRONMAN in Florida this past weekend (congratulations Mike!), and he gave Head Coach Morgan Hoffman the 411 on his experience as a first-time IM racer, and how Playtri helped him get across the line!
Coach Morgan: This was your first IM - what were you most nervous about going into the race? What part were you most excited about?
Mike: Nutrition and hydration were what worried me the most about Ironman. I was worried that if I didn't have this ironed out before IMFL it could be a concern for not finishing.  
I was most excited to just get out there and race. I had my other races defer to 2021, so I was just happy to be racing!
Coach Morgan: What were the top three things you did on race day that you would do again at your next IM?
Mike:
Pre-load with nutrition and hydration for sure.

Get to transition early to check bike tire pressure and setup my space.

Chamois Cream!!!
Coach Morgan: What are the top three things you would do differently?
Mike:
Arrive to race location earlier to get situated and not feel rushed at check-in. I went from the airport directly to the IRONMAN Village with my luggage since I was worried about missing my check-in timeslot, which was part of the COVID safety protocols.  

Move to a slightly more liquid-based nutrition on bike.  I feel like I took in enough calories, but they really sat with me the whole race. 

Not change clothes each time in transition.  It wasted a lot of time and it wasn't necessary for me.  I normally wear my tri kit under my wetsuit, this time I didn't and it's extremely difficult to put a shirt on when you have just come out of the water!
Coach Morgan: What was going through your mind as you approached the finish line?
Mike: I think the main thing on my mind was how hungry I was - spectators were eating pizza while cheering us on and I really wanted a slice during the run!  I was also thinking to myself "Don't trip" as I was crossing the line when Mike Reilly was announcing my name.
Coach Morgan: How did Playtri contribute to your success in Florida?
Mike: My coach [Jim Rowe] was awesome and kept saying to trust in the system, and I did.  The Playtri method of training, pacing, and HR zones was what ultimately allowed me to cross the finish line. 
Congratulations again, Mike! YOU ARE AN IRONMAN!
Interested in crossing the finish line with Playtri at your next race? Visit www.playtri.com/coaching to learn about our internationally-recognized programs!