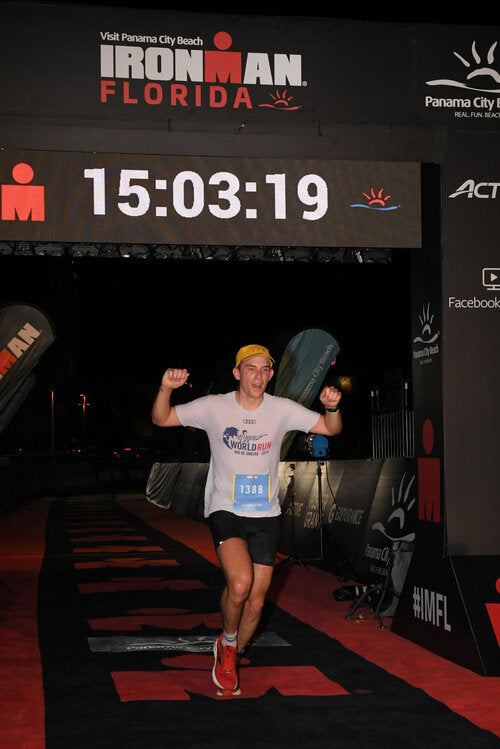 Dillon, You Are An IRONMAN!
Dillon Scala, Playtri Swim Club athlete finished his first IRONMAN in Florida this weekend - Congrats, Dillon! He sat down with Head Coach Morgan Hoffman to tell her all about his experience, and how Playtri helped him get to the finish line.
Coach Morgan: This was your first IM - what were you most nervous about going into the race? What part were you most excited about?
Dillon: I was just scared of putting in so much work and getting a DNF - on the flip side I was excited beyond belief to put all that preparation to work on the big day. 
Coach Morgan: What were the top three things you did on race day that you would do again at your next IM?
Dillon:
I did not hammer into the head wind and burn myself out. I'm very happy with how fresh I was for the start of the run.

I was overly generous and diligent with the body glide and the vaseline.

I drank the broth at every aid station on the run.
Coach Morgan: What are the top three things you would do differently?
Dillon:
I was so overanxious about forgetting things in transition, getting extras of food and drink at aid stations and triple checking what I had, that I burned an insane amount of time. I think I literally could have saved 45 minutes from T1 and the bike leg by just trusting that I had everything and not stopping unless I absolutely needed something. Next race, I want to bang out my T1 more quickly and know how to move through the aid stations in as little time as possible.

I'm going to have my transition and special needs bags completely ready before I even get to the race site. The day before my race was so stressful getting all of that together. It was an unnecessary use of energy that close to the race.

My neck muscles got really tired during the last two hours on the bike, so I'm going to put an emphasis on improving strength and flexibility in my neck and back so I'm ready to be in the aero position for that long.
Coach Morgan: What was going through your mind as you approached the finish line?
Dillon: The finish line was such a blur that I don't have anything too interesting to say about it! However, the swim was one of the coolest experiences I've ever had. The energy in T1 before the race was unlike anything I've ever experienced before, and the procession out to the beach, then the moment that it was my time to go was so surreal. Then being out in the ocean with that many people doing this crazy thing was so much fun. 
Coach Morgan: How did Playtri contribute to your success in Florida?
Dillon: Outside of the time I spent training, PlayTri was the biggest contributing factor to me being ready and having a great time at IM Florida. 
I didn't even own a bike when I signed up for the event this past February. Just buying a bike was such an anxiety inducing process until I went into Playtri. Everyone there was so knowledgeable and helpful that it turned all that anxiety into excitement and happiness about having a new bike. Beyond just selling me the bike and some gear, they were so welcoming to the world of triathlon. That positive energy was so encouraging when taking on this new and intimidating challenge. 
Additionally, in being brand new to cycling, triathlons, and the Ironman distance, I had a million questions. Everyone at the store was so generous with their time and knowledge. I want to especially thank Eli, Morgan, Ahmed, Garret, and (I'm sorry I'm forgetting the name of the person that helped me out last Tuesday and many times before that!). I'm sorry I took up more than my fair share of your time with all my questions. But I really appreciate all of your help. 
Lastly, and most importantly, I owe a huge amount of thanks to Playtri Aquatics Head Coach Gabriel. I tried using YouTube to teach me how to swim, but about 6 weeks out from the race, I was making zero progress and I was grossly inefficient in the water. I signed up for Foundations of Triathlon Swimming and the Playtri Swim club for the month of October. I did three sessions a week with Coach Gabriel, and what a difference that made. My confidence in the water went from absolutely zero to knocking out a 1:19 swim at IM Florida. Beyond that, it was just an absolute blast to go up to MJP and have a great swim session with Gabriel. He made it so much fun and gave me a ton of confidence to keep improving. His passion and enthusiasm for the sport is so infectious and was one of the highlights of my entire Ironman experience. Also, I owe him big time for powering through some very cold autumn nights there at the pool. 
Dillon - congratulations again on your awesome achievement. YOU ARE AN IRONMAN!
Athletes - want to take your long course swim to the next level with Playtri? Visit us today at www.playtri.com/aquatics to learn about our Swim Club, Camps, Private Lessons, Open Water Training and more!