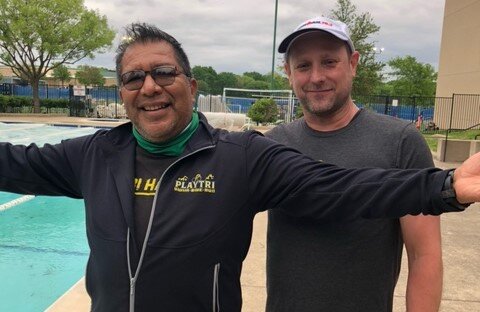 Meet Playtri Athlete Bobby Howe
Bobby recently finished his first 70.3 in Galveston after completing the Playtri Race Ready training program with Coach Gabriel. He tells us all about his experience here!
This was your first 70.3 - what were you most nervous about going into the race?
The swim - definitely the swim! What part were you most excited about? For me the goal was to just finish - I wanted to cross that finish line standing up!
What were the top three things you did on race day that you would do again at your next 70.3?
1) Stay calm in the water - the start was crazy but when I found my rhythm it went well.

2) Not stress about transition - I arrived at the start at a time I felt was early but then they started calling the swim seeding times and my goal time was called before I even emptied my bag. I ended rushing a bit and then just standing in line for another 40 minutes waiting to get in the water.

3) I felt great on the bike - we had the wind at our backs going out so I really had to tell myself to relax and take it easy - taking easy on the bike was key for me.
What are the top three things you would do differently?
1) SUNSCREEN! I would make sure to put on sunscreen before the bike.

2) Body Glide - more Body Glide before putting on my wetsuit.

3) Did I write sunscreen already?!
What was going through your mind as you approached the finish line?
I was thinking I'm so glad this is over - I did it and was done for the day! I'm actually still debating on doing another - I still can't imagine doing a full IM yet!
How did Playtri contribute to your success on race day?
I couldn't have done it without Playtri training and Coach Gabriel's help in the water. I've done over 55 marathons and I know what I need training wise to complete the 26.2 miles - I had no clue what was needed for 70.3 and much less 140.3! I'm so glad my wife encouraged group training with Playtri!
Congratulations Bobby!!
www.playtri.com/group