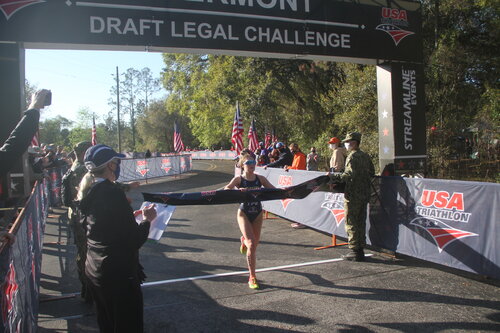 Meet Team Playtri Elite Athlete Jenna
Jenna Topott, a member of our USAT High Performance Team, recently brought home a 1st Place finish at the Clermont F1 and 3rd at the Sarasota Youth Elite Cup in Florida. She answered some questions for us so we could get to know her a little better!
How long have you been doing triathlon?
I have been doing triathlons since I was 6 years old. I have been on the Playtri Elite team for a little under four years.
How long have you been training with Playtri?
I have been training with Playtri for five years. One year on the Silver and Gold 2 teams, and four years on the Elite Team.
Any big triathlon goals for 2021 or beyond?
My biggest goal is to be on or near the podium for the remainder of the USAT Youth Elite Cup season. Also, I hope one day I can make it to the Olympics or complete an Ironman.
How has Playtri helped you be successful in your training and competition?
Playtri helped me improve not only in speed but also in skill. Team practices help me train consistently, but they also keep me motivated even when workouts are tough. Team Playtri has also provided many wonderful teammates that have helped me push myself. We also have the support of all of our coaches to guide us each and every day.
What is your funniest triathlon story?
When I think of a funny story, I immediately think of my teammates. There have been many funny moments, like running with your helmet on in a race, or biking with the opposite shoes on the pedals or with just one shoe on. Many things have happened in races that we don't plan on. But in the future, we can laugh about it.
What triathlon accomplishment are you most proud of?
During my most recent race in Sarasota, my goggles were ripped off at the start of the swim, and I ended up coming out of the water 23rd. By working well in a bike pack, I managed to bike down 18 people to put me in 5th starting the run. Finally, I ran down another two people, placing me on the podium.
Tell us something about yourself that most people don't know!
Something most people don't know about me is that I have dyslexia. I have worked hard to manage it to the point where I don't even notice it anymore.
Jenna - we can't wait to see what else you accomplish in 2021!
You can learn more about our youth and junior programs at www.playtri.com/youth.