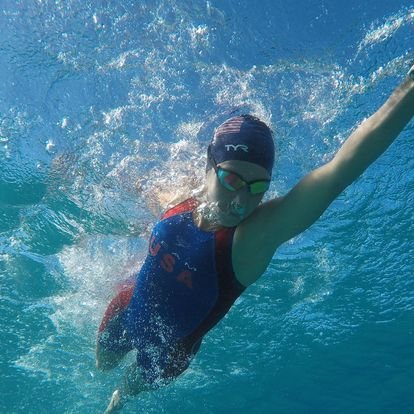 Meet Playtri Athlete Carrie McCoy
Why did you decide to do triathlon:
I was running for The Ohio State University's cross-country team and got injured. Our rehab included swimming and biking and one day I saw an advertisement for Team and Training's triathlon team (raising funds for Leukemia and lymphoma society). They were training for St. Anthony's Olympic down in Florida and I thought since I am already training, why not! My first open water swim was in the ocean in a wetsuit that I put on backwards... 
How long have you been coached by playtri?
I have been working officially with PlayTry for 1.5 years.
Who is your Playtri coach?
Morgan Johnson and Ahmed Zaher 
What are your goals for the upcoming season?
To requalify my pro license and race elite. 
How is your training going so far?
We've been putting in the time day after day, listening to my body and laying a strong foundation to build from. Its not always about times its about consistency and we've been consistent which means training is going well and the breakthroughs are around the corner. 
Who is your favorite athlete/idol in triathlon? Why?
Meredith Kessler because she leads on and off the race course. She is a fierce competitior but is humble and kind. She empowers those around her and her identity is not in this sport, its just apart of who she is and how she uses her gifts. 
What is your dream race?
I would love to race Roth as a professional athlete and Leadville 100. 
What are your best and worst memories from racing?
The best memory I have is when I raced Beach 2 Battleship Full distance. I crashed on the bike at mile 10, broke my arrow bar and thanks to a kind athlete was able to fix my saddle to make it ridable again. I got back on and rode into 3rd place (overall female) the motivation being I was there with my team and my father was racing the half ironman and he had figured out that I would be heading out on the run while he would be coming toward the finish and we may see each other and share a hug. That goal he had fueld me to get back on my bike and fight through the pain to ride the 102 miles left to get to the run course. I got to hug him that day right before he finished his race and I headed out, I also placed 2nd overall and earned my first pay check as an elite athlete.
I do not have a "worst" memory as even the races that ended in a DNF or didn't go anything like we planned I have been able to learn from and use to fuel the fire for the next one. 
What is your favorite training session?
Training pace bike workouts when I can truly just go out and ride anywhere, up mountains and not worry about staying in zone 1 watts ;)
What training session do you dread?
I do not fear any of them but I have had to work on the mindset to rise to the challenges of hard workouts and learn not to fear not hitting the watts or pace but to embrace the challenge and give 100%. If I do not hit it, then its something to shoot for the next time. I've learned to not fear failure. 
What have you learned from your playtri coach?
The importance of miles/ times day in and day out, its not about how fast you go to build your base, its about consistency every.single.day. 
Give us a fun fact about you:
I run a foundation called Kona Kids and I love to sing and have written/ composed a song. 
Are you ready to get a playtri coach? Get started at playtri.com/coaching