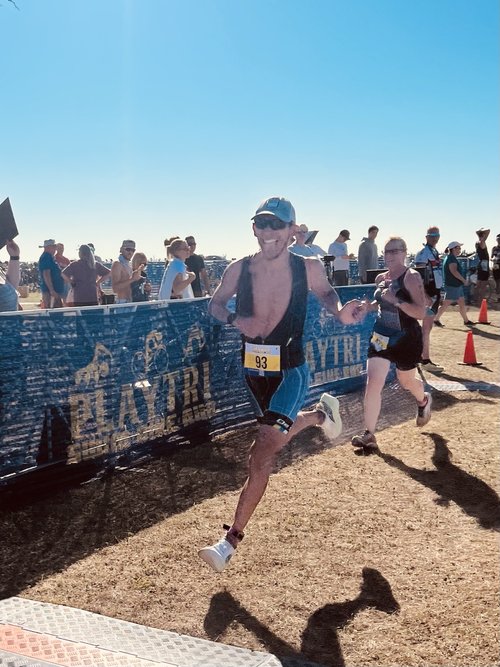 Meet Playtri Athlete Joshua Hernandez
Why did you decide to do triathlon? 
I heard about the sport from my family and my aunt soon taught me how to swim. I got an old bike from my dad who also likes triathlons and I just signed up for a race. I gave myself 50 days to prepare and followed through. I truly fell in love. 
How long have you been coached by playtri? 
9 months 
Who is your Playtri coach? 
Michael Rourke 
What are your goals for the upcoming season? 
Place top 10 in my age group at Multisport nationals in April and place top 10 in my age group for Age Group Nationals in Milwaukee 
How is your training going so far? 
Amazing. Me and Michael have really cranked down on the swim and so I'm seeing major gains. I've taken minutes off my swim times and built some of the best strength in my legs ever. 
What is your favorite discipline in triathlon and why? 
I'd have to say running. It's been my main sport for so long and it gives Me a lot of control in terms of output so I can always push hard. Swimming is a close second, it's growing on me. 
Who is your favorite athlete/idol in triathlon? Why? 
Kristian Blummenfelt; He is the best in the world and gives 100% to everything he does. No matter if it's a full distance or a short course race- he'll get it done and very fast. I've always wanted to complete long course events and he gives me inspiration to do so. He shows me that I can be good in anything I apply myself to. 
What race did you love the most? 
I loved the 2nd Fort Worth Olympic-Distance Triathlon.  I got a PR in each discipline and got qualified to compete at a national level for the first time in my life in the first 5 months as a full-time triathlete. 
What is your dream race?
Ironman World Championships at Nice, France or Kilauea-Kona, Hawaii 
Ironman Alaska with my dad. 
What is your favorite meal the day before the race? And after the race? 
The night before I'll usually have some sort of home cooked meal with some sort of fish and high carb. I try to not eat too many veggies or fiber to avoid the need to digest complex foods. 
After is usually breakfast foods. Waffle House is my favorite because is reminds me of my home. 
What are your best and worst memories from racing? 
Worst: My chain derailed during my first race ever and I got into a really bad bike crash the week before that race as well. 
Best: I remember feeling the most intesnse joy and excitement ever when completing my first ever race (Sprint distance) in under an hour. I almost cried from the sense of accomplishment it brought me and the level that triathlon pushed me to was unlike any cross country or track race I've ever done. 
What is your favorite training session? 
Hills for bike and Run, drill/technique swim days, and endurance swim days. 
What training session do you dread? 
Probably low cadence bike days or sprint swim days. 
What have you learned from your playtri coach?
Having a healthy relationship with exercise and sports has been a struggle for me since becoming a highly competitive athlete. I often got injured and was very inconsistent but, since being with my coach I learned: 
- it's better to do something than nothing. 
- if you can't get something done, forget about it and on to the next. 
- loving something forever is more important than being the best temporarily. 
Give us a fun fact about you. 
I love playing many instruments, usually you can catch me playing piano, drum set, or guitar outside of training.
Are you ready to get a playtri coach? Get started at playtri.com/coaching