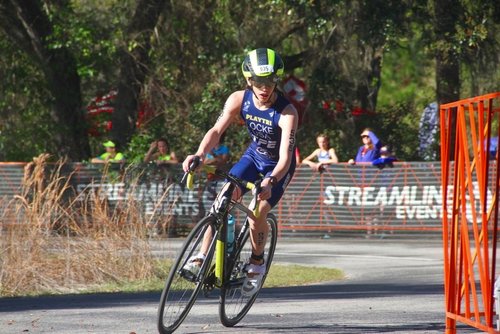 Meet Playtri Athlete Lucas Locke
Why did you decide to do triathlon?
I decided to try a triathlon because I was thinking about quitting gymnastics, and was looking for another sport. I noticed my mom doing triathlons and asked if I could train with her & try one.
How long have you been coached by Playtri?
3.5 years
Who is your Playtri coach?
Coach Morgan, Coach Raina, & Coach Wesley
What are your goals for the upcoming season?
Top 50% in swim, Nationals, finding a pack for swim and/or bike
How is your training going so far?
Good, I am seeing improvements from all my training.
What is your favorite discipline in triathlon and why?
My favorite of the three sports is definitely running. There is just something about it that brings me the most joy. I love pushing myself to the limit and the feeling of accomplishment at every new PR.
What is your favorite athlete/idol in triathlon? Why?
I don't have a specific athlete that is my favorite, nor do I know many athletes in any sport. I guess my idol would have to be my mother since she got me into the sport.
What race did you love the most?
My favorite races are some of the longer distance ones I do locally by PlayTri.
What is your dream race?
An Ironman 1/2 with my mom one day.
What is your favorite meal day before the race? And after the race?
My favorite meal before the race depends on how I'm feeling. After the race, I always like to get either Chick-fil-A, Cane's, or Whataburger.
What are your best and worst memories from racing?
My best memory so far was at the draft legal in Iowa last year. It was the first time I didn't finish the swim in the last 5 people. It was also my qualifying race for nationals. My worst memory would actually be at my first nationals. I crashed on the bike because my back tire slid out on a u-turn. I also had a horrible dive at the relay the next day.
What is your favorite training session?
My favorite training sessions are the bike/run on Thursdays.
What training session do you dread?
I always dread the open water swim before our bike on Saturdays. If it's during the winter, I dread the pool swim after instead since we don't have an OWS swim.
What have you learned from your Playtri coach?
I have learned a lot about the details. Technique, preparation, packing, nutrition, hydration, focus.
Give us a fun fact about you.
I PRed on the 5k off the bike 3 times in a row at the local PlayTri races.