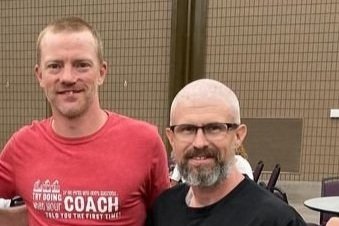 Athlete & Coach: What We Have Learned This Season
Brian Shiels and I started working together on his goal of completing an Ironman last year. Brian came to this goal with no previous triathlon experience, a lot of experience in rucking and running, a full time job that requires travel, and a supportive family of four. As a coach with a young family and who regularly competes in Sprint, Olympic, and 70.3 distance triathlons, I had a good understanding of what Brian's training was going to look like; early morning or evening workouts and bigger miles on the weekends. Still, as with any new triathlete it is important to manage the family and mental load as much as managing the training load. During our time together we have learned (or been reminded) a lot about triathlon as athlete and coach. Here are a few of the things we have learned.
Brian's list
You'll never know what you don't know, until you talk to someone who really knows. Turning to Playtri and having a coach has shown me that taking the time to invest in proper education and training is the most effective path to achieving my triathlon goals. (Click here for information about our coaching options.)

There is more to each of the three (3) disciplines than merely doing them. While an experienced runner, I naively considered myself a capable swimmer and cyclist when I came to Playtri. I learned right from the start that swimming and riding a bike are not remotely the same as competitive open water swimming and road cycling.

Being kind with myself. I have participated and raced in running and rucking endurance events for decades, but have always taken a harsh approach with myself to ensure training and event execution. With the guidance of a primary coach and the support of the entire coaching team, staff, and the general participant community at Playtri, I have learned to pursue progress, not perfection, and improvement as an acceptable result.

Specifically, a measured, scientific approach to training will yield more impactful and safer results. The use of blood lactate testing, sweat testing, and establishing my optimal heart rate zones have given me information to guide everything from basic nutrition and electrolyte needs to employing the most effective training and race day strategies. (For information about our various testing options, click here.)

The best way not to sweat the small stuff is to have taken care of it ahead of time. Knowing how to set up your transition area during a triathlon is key to ensuring a smooth process when moving between activities. Planning out water, energy, and electrolyte needs before an event reduces the likelihood of deficiencies in these areas.

Use chamois butt'r. A lot of it. Everywhere.
Coach Jim's list
Coaching is more than just the workouts. This includes conversations about kit, gear, nutrition, hydration, pedaling efficiency, running form, swim form, transition set up, etc. I speak on the phone or zoom with all my athletes on a weekly basis. Our conversations regularly include data and video review of swim, bike, or run workouts.

Every athlete has unspoken expectations for race day. Throughout the build and before each race I talk with my athletes about what my expectations are for race day and I ask them what there expectations are also. Even if an athlete says, "I just want to finish" often times they have specific time goals in their mind. These need to be spoken and shared so everyone is on the same page.

Adopting an attitude of gratitude is a game changer for athlete and coach. Training and racing while being thankful for the ability to do this sport goes a long way when things get rough. As a coach, it is important to grateful to be entrusted with helping people reach their goals. I end all emails to my athletes with this: "Thanks for allowing me to be your coach!"

Trust the work of other coaches. Playtri has a great group of capable coaches. If I can't have my eyes on an athlete, I'm thankful that my athletes get the opportunity to work with other amazing coaches at weekly Open Water Swim, pool workouts, strength training, group rides, and at the track. (Click here for a list of the weekly workouts available to Playtri athletes.)
Jim Rowe is a Playtri Level 4 Coach, a USAT LI Certified Coach, and NASM Certified Personal Trainer who works with adult athletes of all abilities from beginners to IRONMAN World Championship qualifiers. Learn more about Jim at www.playtri.com/jim-rowe.