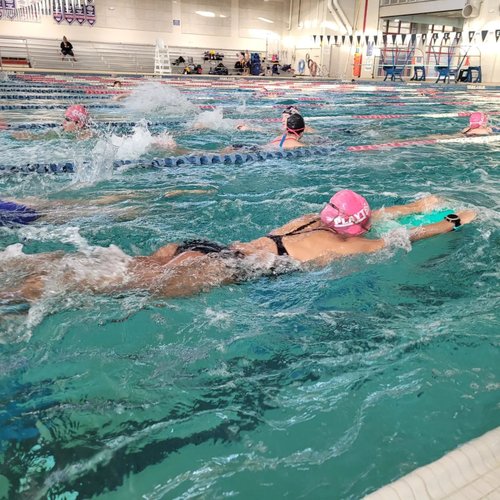 Beginner Freestyle Technique
Triathletes come from many different backgrounds and experiences, but arguably most triathletes are later onset swimmers. There are some athletes who come to the sport with an extensive background in swimming, but if you are reading this article, you are probably one of the athletes who is just learning to swim or looking for some tips to improve your swim.
As a swim coach, I have worked with beginner swimmers to junior nationally ranked elite swimmers, and I have come up with a few key ideas that will help any new swimmer start their journey in the sport of triathlon.
Relax and Breathe
Late onset swimmers tend to panic in the water, as they are not yet comfortable with the idea of holding their breath while exercising. The first thing that any new swimmer should focus on is getting their breathing under control. A coach may talk to you about breathing patterns, but as a new swimmer, getting comfortable with simply holding your breath and taking in your breath at the proper time will make a huge difference in your swimming. Athletes should learn to blow all their air out underwater (blow your bubbles) BEFORE turning their head to the side so that they can take a quick breath and get their head back in the water.
This can be achieved by utilizing a kickboard and kicking with your head down and taking breaths every couple of seconds. Taking away the arms to focus on specifically the breath allows for the athlete to make changes as necessary for improvement.
Take Your Time and Focus on Technique
Swimming is a very technique focused sport, and this is very important in the sport of triathlon. Many times, athletes will "try harder" in a sport to get better, such as pushing harder on the bike, moving your legs faster on the run, etc. This means of improvement will not work in swimming because an athlete that "tries harder" in the water will generally mean that they do not have the correct feel for the water or miss key aspects of their stroke.
In swimming, to go faster, an athlete must go slower. This may seem counterproductive but slowing down to focus on drills and specific aspects of the freestyle stroke will allow an athlete to not only be more comfortable in the water, but also develop a feel for how they should feel as they are training and racing. Take your time when you are focusing on drills and really get a feel for the water. Understand how your palms feel as you initiate your stroke. Figure out the positioning of your hips that allows you to be the most streamlined in the water. Keep your head down, hips up, and elbows high. Tighten your core and focus on smaller kicks to allow your body to stay in a solid bodyline, but also to utilize more than just your arms. All of these are just a couple of examples that can help you as a new swimmer. 
Be Productive and Do Not Focus on Distance
As swimmers progress, they will focus on total yards or meters swam. However, this is not something that new swimmers should do because they are still learning the basics of the sport. A 20 to 30-minute swim session can be largely productive if the athlete focuses on specifics. Each session in the pool is an opportunity for growth, so perform every movement with a purpose. If your coach tells you to focus on kick for one session, understand that you may not hit the same yardage as previous sessions, and that is more than okay. The focus on that session would be on utilizing your lower body efficiently. This is just one example of having a focus for each swim session, and just one of the many reasons you should look into getting a coach (contact me at michael.rourke@playtri.com so we can talk about your triathlon goals).
Have Fun!
Triathlon training can be long and monotonous. Have fun with your training and do not be too hard on yourself after a "bad session". Triathlon is a fun sport full of athletes from elite level athletes to brand new athletes who are looking for health goals outside of the finish line. The best thing you can do for your own training is to embrace the process and enjoy the journey. If you are looking for some specifics about swimming, check out some of our swimming articles on the Playtri Coach's Blog. Happy swimming!
Coach Michael Rourke is a Level 2 Playtri Coach and an American Swim Coaches Association Level 4 swim coach. He coaches junior and adult triathletes of all levels, as well as high school elite swimmers. He is also a 70.3 World's Qualifier.