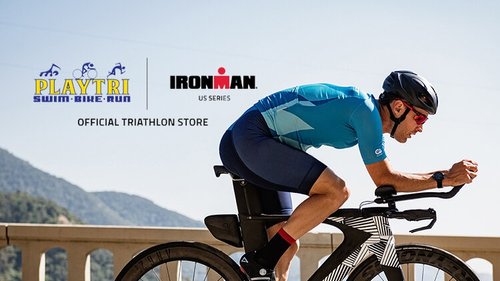 IRONMAN & 70.3 Essentials
Getting into the sport of triathlon can seem overwhelming with all the equipment and deciphering which items are needed and which are nice to have. When an athlete approaches me with a goal of completing an Ironman I discuss the following items with them. These items are necessary to have a successful training and racing experience.
A Plan!
Long Course Triathlon such as Ironman is a serious undertaking and you should not go after it alone. Playtri has Group Workouts, Individual Coaching, 1-on-1 Sessions, and a training app to help you get to the finish line safely. Consider recruiting one or all of these to get you to your finish line.
Swim:
SWIMSUIT
SWIM GOGGLES
Clear for overcast days and tinted or polarized for bright sunny days, such as these

Should fit without leaking and provide wide range of view

Multiple lens options for varying outdoor conditions.

Smart goggle for consistent feedback (Read detailed review here)
WETSUIT
Sleeves are faster if the suit fits properly and doesn't overly restrict shoulder mobility

Sleeveless for warmer or more general comfort with mobility
Bike:
BIKE WITH PROFESSIONAL FIT
Aero position is only good for as long as you can hold it and run off it.

Common injuries and poor run performances come from poor fit.
ROAD BIKE
Entry point - Good enough to get started but going to leave a lot on the table because of aerodynamic penalty of upright and wider position. Closed hip angle will make running more difficult after the bike.

700c x 23-30c wheels

Can add clip-on aero bars
TRIATHLON BIKE
Opens up hip angle to run better

Moves rider forward to engage quads and save hamstrings for run

Sets you up to run better off the bike

Position of ride will be lower and more narrow which improves aerodynamics
Better power delivery

Maintains fit exactly

Enables you to pull through bottom of pedal stroke
HELMET
HYDRATION & NUTRITION
CYCLING SHORTS
Proper pad (known as a chamois)

Bib shorts ensure a secure fit

Non-bib shorts may be more comfortable for you

Cycling shorts are specifically for cycling and help fit you on the bike in a way saddle manufacturers intend you to sit on the saddle.
Pockets for nutrition, phone, flat kit, etc.
BIKE COMPUTER
Run:
RUNNING SHOES
Find the right shoe for you

Replace every 300-500 miles or 6 months
SOCKS
Avoid cotton – collects moisture, causes blisters

Merino wool – regulates temperature, moves moisture, and resists odor

Mix of synthetic – nylon, polyester, spandex – good value/durability, prevents friction
RUNNING SHORTS
Comfortable specifically for running (material: polyester, elastane, spandex, nylon)
RUNNING SHIRT
Synthetic fabrics: polyester, nylon
Triathlon Specific + Nutrition:
WATCH & HEART RATE MONITOR
Reserved for racing and key workouts

Partially hydrophobic for fast swimming

Wicks sweat

Material reduces chafing

Small pad to help with cycling comfort (may impede running for some athletes)
NUTRITION
Coach Ryan Siebert is a Level 2 Playtri Coach and a USAT Level I Coach with Long Course Area of Focus. He coaches juniors and adult athletes of all levels and is a bike fitter and performance tester at Playtri Dallas. He is also 70.3 Champion and WC Qualifier.