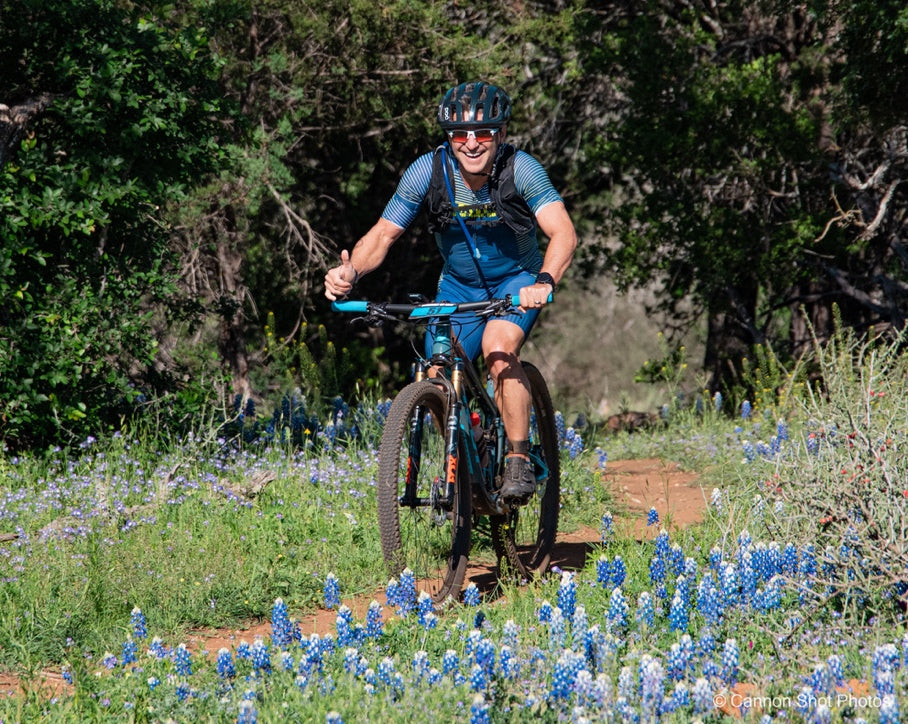 OFF-ROAD TRIATHLON RACING & TRAINING
OFF-ROAD TRIATHLON RACING & TRAINING
Triathlon is a race that consists of three consecutive events. Most commonly, these are swimming, biking, and running. Triathlon races allow you to test your fitness, resilience, and mindset in a healthy and fun way. Triathletes love these races because they like to compete, strive for superior performance, want to test their endurance, speed, strength, and mental fortitude, or simply prove to themselves that "anything is possible." As triathletes, we are always striving to get better and are driven by a growth mindset, but we are also attracted to the sport because we love the lifestyle and all of the benefits that come from triathlon training. Let's face it, over 90% of what we do falls into the category of training or active recovery. This is also where the real gains, adaptations, or evolutions happen. 
Have you ever wondered about how to spice up your training and add a sense of adventure to your triathlon experience? If so, you might be ready to explore off-road triathlon. As the name might suggest, off-road triathlons are triathlons that are done off-road. They involve swimming in natural open water, mountain biking, and trail running. XTERRA organizes the most popular off-road triathlons, but many off-road triathlons are hosted by more local or regional organizations like Race Revolutions in the State of Texas.
In order to help you determine if off-roading training and racing is for you, I have a short assessment to assist you in determining fit. 
•          Do you enjoy adrenaline boosts, feeling exhilarated, adventurous, and free?
•          Are you struggling to incorporate more strength training and functional fitness into your triathlon training?
•          Are you getting a little bored of staring at that black line at the bottom of the pool while doing endless laps or hugging that white line for miles and miles while riding on concrete or chip-seal? 
•          Has running loops around your favorite track, doing hill repeats or speed work along your favorite stretch of road lost its pizazz?
•          Are you interested in adding a sense of adventure to your bike and runs?
•          Are you wanting to connect with nature but struggling to find ways to incorporate it into your triathlon training?
If you answered yes to any of the above questions, you should consider off-road triathlons. If you answer yes to more than one of the questions, it's time to take it off-road.
The views from the natural open water swims are guaranteed to help ground you with nature as you swim your heart out. The rush of mountain biking for the first time is a mixture of excitement, fear, and joy. You feel your heart pounding and become almost breathless as you power up those hills before quickly seeing what lies ahead in the descent, filled with twists and turns, bumps and drops, stream crossings, and more steep climbs. You are "in the moment" as soon as you start the descent. The adrenaline rush and sharpening focus keep you present through every second of the descent. It's almost like all of your senses awaken as you pedal through dirt, roots, rocks, and streams. You feel so alive when flying down the trail, whipping through turns, navigating obstacles, and hitting those drops and bumps. You just can't help feeling like a kid again.  
There are so many reasons to consider off-road triathlon. Below are my top five reasons.
They are fun and exciting. I started training and racing off-road triathlons this season, and it's been incredible. After my first race, I signed up for three more!   I guess that I got addicted to the thrill of riding and running through tough and scenic trails. 
Off-road races force you to be 100% present and focused on the moment. Not knowing what is around the corner or on the other side of a sharp drop forces you to be "in the moment" the entire time and ready for anything. You don't have to get yourselves into a state to grind it out for hours on a long flat road, nor is it possible to do this when off-roading. Regardless of what you have going on at work or at home, these races act like a big "pause button" for those things and anything else. Yoga and meditation also help us hit the "pause button" by turning our focus inwards by living each moment through our breath. But I promise, being present and living in the moment is about the only thing off-road triathlon and yoga have in common. Tree pose means something completely different and is something to be avoided in off-road triathlon.
Off-road triathlons connect you with nature. The training and racing allow you to connect with nature in ways that awaken all of your senses. You get to sneak peeks at some breathtaking views along the way. Whether it's the fresh air, the smells of the trail, the sounds of the wildlife, or the wind, water, and dirt on your face, you truly feel connected to nature.
Off-road training and racing force you to improve your core strength and functional fitness. Navigating through technical terrain with many ups, downs, twists, and turns on uneven surfaces will certainly help build core strength. Constantly switching gears, braking, cornering, and hanging on while flying at top speeds will make you discover muscles that may been dormant for a long time despite a training program which may already include core strength training. Off-road training can be great cross-training to complement a standard or IM training program.
The off-road and XTERRA communities and cultures are a little different. These are people that share a passion for adventure and appreciate nature and comradery is unlike anything that I have experienced before. For example, almost all athletes stay and celebrate until the last racer crosses the finish line. How cool is that? While you will see some incredible bikes out there pushing the limits of innovation, the races themselves are low-frills. The organizer focuses on creating the best race experience for the athletes as opposed to staging big balloons, blow-up arches, or fancy red carpets. These events have a grassroots feel to them. As these races become increasingly popular, I hope they maintain that feeling.
It is also important to realize that off-road triathlon is not for everyone. As triathletes, we all appreciate and enjoy a good adrenaline shot and the racing thrill. However, the constant surges of adrenaline mixed with fear and joy come with increased risk and can be too intimating for some people. Off-road training and racing can also be physically and mentally demanding. I will not argue that they are more demanding than traditional triathlons, but they are certainly different.
If you are still reading this article, you may seriously consider getting involved in off-road triathlon. These are a few things to consider as you get started. First and foremost, getting into off-road triathlon is an excellent excuse for getting new gear – and yes, that means acquiring a mountain bike. Do not pass up on this opportunity. You will also need a pair of mountain biking shoes and trail running shoes. A hydration pack is also extremely helpful when you are getting started because you don't have many easy flat stretches during the bike course to grab a water bottle for a quick sip of water or your favorite electrotype mixture. Trust me – you will want both hands on the handlebars. You will also want a good pair of mountain bike gloves to help absorb some of the vibrations and protect those hands when you wipe out. Yes – little spills are more common in off-road triathlon than in standard triathlon. Getting the right fit with your equipment is always important, but it's especially important in off-road triathlon. Making sure your bike and tires are trail ready is also so important, given the technical nature of the terrain. You can find all of the equipment you need at your local Playtri store. They could also help you with bike fitting.
You will need to adjust your training to incorporate more core strength and functional fitness, and of course, you will need to spend a good amount of time on your mountain bike on actual trails. Time on your MTB will help you strengthen your core and other muscles that you likely haven't relied on in standard triathlons, like your fingers, hands, and forearms. You will quickly see that the strength and agility required to hang on while flying down trails at top speed is significantly greater than what you use to hold your aero position when speeding down fast hills during standard triathlons. Time on your MTB will also help you develop specific MTB skills like overall bike handling, gear shifting, braking, cornering, climbing, and navigating different types of terrain while going up and down. You will also quickly notice that your overall pace will be much lower on your MTB than on your speedy tri bike or road bike. Don't worry about that – it's perfectly normal, given the terrain. 
Training with heart rate and power in off-road triathlon is also quite a bit different compared to how we use these performance measures. These metrics will be much more valuable when doing a post-race or workout analysis vs being used to monitor real-time performance. Given the lagging nature of HR monitors and the constantly changing terrain, your HR data will be most valuable in analysis. And you really want to keep your eyes looking in front of you vs at your bike computer. While on a MTB, you will also see many spikes in Power output with all of the quick ascends and descends. The performance data you get from your HR monitor and Power meter remain very important as you dial in your fitness and overall training. It also makes for great post-race and post-workout conversations with your coach. 
The planning and execution of your hydration and nutrition will change, and like always, practicing with what you will use on race day is very important. It will feel like there is never a great time to drink or eat while on the MTB course so I highly recommend that you keep it simple. Easy access is key to one hydration/electrolyte solution and one fuel solution.
Riding the pre-race course is a smart thing to do in any triathlon. However, in off-road triathlon, I believe it is mandatory to ensure a safe and fun experience as you push your limits on race day. The bike leg in off-road triathlons often consists of one loop (for Sprints) or two loops (for Fulls) so it's pretty easy to do one loop the day before the race. 
As with all triathlon training, I would encourage you to seriously consider working with a coach that can partner with you to create a customized training plan that suits your goals, abilities, availability, and lifestyle. Coaches are instrumental in helping you avoid pitfalls, lower your chances of injury due to overuse, and unlock your potential to maximize performance. They also make for great accountability partners. 
Also, I highly encourage you to reach out to folks in the off-road community. They are a wealth of knowledge and are happy to help you by sharing great tips and motivation. Do expect them to invite you for MTB rides quickly (it's what they do), and I encourage you to take them up on their offers. The best way to get into off-road triathlon, MTB, and trail running is to get out there and do it. Start at your comfort level and build up from there. If you have any questions regarding off-road triathlon or Playtri Coaching, don't hesitate to me at peter.balyta@playtri.com.
Triathlon is not about what you get at the end of the race (i.e. medal, podium, …). It's about who you become along the way. Get out there. Ride and run those trails and see what happens! 
Peter Balyta is a Playtri Level II Coach, a USAT Level I Certified Coach, an Ironman Certified Coach, and a BICP Rider Leader for MTB. Peter is committed to helping athletes live the life they want to live. He delivers practical advice to help athletes of all ages and abilities drive superior performance in their training and racing while balancing their family, work, community and fitness goals. Peter brings his 20+ years' experience as a corporate executive and community advocate to his triathlon coaching. Learn more about Peter at https://www.playtri.com/peter-balyta.