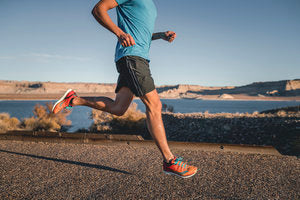 RUNNING EQUIPMENT CHECKLIST
HOW TO CHOOSE RUNNING SHOES
There is no "best" or "great shoe" that will make every runner happy.  Every major running brand manufactures all different types of running shoes (cushioning, stability, minimalist, racing, trail, among others).  Therefore, you will have a good pair of running shoes and a lot of not-good ones from any brand.  What determines a good running shoe for a runner is to know the running form.  Also, distance or surface will determine the type of the shoe. It's recommended to get help from a "fitter", preferably after knowing the running form.  The shoe "consultant" should be able to match the perfect shoe based on the runner's form.  A pair of running shoes which was a miracle for a particular runner may be the cause for injury for another one. 
WHY DO WE NEED TO REPLACE RUNNING SHOES?
While most of the visible wear to a shoe occurs on the upper fabric and the "outsole," the hard rubber bottom of a running shoe, the wear that most affects biomechanics (and thus, the wear most likely to have an effect on injury risk) occurs inside the midsole.
While EVA foam is quite resilient, research shows that it still breaks down over the course of thousands of foot-strikes.  The wear will be more if the athlete is running every day versus every other day, so we recommend having two pairs for everyday runners.  Also, the surface (concrete vs. dirt), weight of the runner, and running gait (over-striding will wear the shoes) are some of the other factors that determine wear and tear.  As a guidance, it is recommended to switch to new running shoes after 500 miles (250 miles for racing shoes).
WHAT TO CONSIDER WHEN BUYING A RUNNING SHOE:
OUTSOLE CHARACTERISTICS
The outsole is the bottom of the running shoe. A quality running shoe will have two types of rubber on the outsole: carbon rubber and blown rubber. Carbon rubber is a stiff and heavy material, while blown rubber is lighter-weight, cushioned and flexible.
Good running shoes have flex grooves and a split heel. Flex grooves are cut horizontally across the forefront of the outsole. They allow your foot to flex at the ball and roll more naturally when you are running. A split heel creates an outer and inner piece of the outsole. The split heel makes heel-to-toe running more efficient.
MIDSOLE CHARACTERISTICS
The midsole is the shock-absorbent material between the outsole and the upper shoe. This is an important part of a running shoe because the construction and materials impact cushioning and support of the shoe. There are usually two types of cushioning found in good running shoes. EVA is a lightweight cushion with limited stability and durability. Polyurethane is more dense and stable, making it heavier. Try shoes with the different types of midsoles so you have a better idea of how they feel.
When looking for overall stability in a running shoe, look for stiff materials used in the midsole. These materials are in the inner or medial part of the shoe in order to prevention excessive inward rolling. Heavier-dense materials may also be in the medial part of the shoe to increase stability. This could be a big plus if you choose a running shoe with EVA cushioning. If you're not sure what materials are in the running shoes, ask a salesperson.
UPPER CHARACTERISTICS
The upper is the outer body of the running shoe. The materials that make up these running shoes are lightweight mesh, which provide stability, comfort and a snug fit.
A last is the shape of the running shoe. Running shoes will come in three different shapes: straight, semi-curved and curved. These different shapes will vary in comfort depending on how they conform to your particular foot. The toe box is the front part of the shoe that should allow your foot to flex. Never wear running shoes with a too-small toe box, which can cause pain and cramping. Allow about an inch (or a thumb's width) space between your longest toe and the front of the shoe. Heel counters are a material that reinforces the heel and promotes stability. They may come in different degrees of stability and stiffness.
 
LET'S TALK SOCKS
Every runner should have a good pair of them. Running socks are specifically designed with synthetic fibers in order to help give you the added comfort and support you need. Running socks also help to protect your feet. They can reduce your risk of developing painful calluses and blisters. One of the most important features is "wicking" which means the running sock literally pulls the moisture away from your feet and transfers it to the outside of your shoe. The fit is also important, the sock should be snug, comfortable and supportive on the arch and Achilles areas.
COMPRESSION SLEEVES/SOCKS
Compression technology has been provided to limit swelling, especially in the calves, where a substantial amount of blood volume can pool while running.  Good compression product should help better circulation, hence oxygenation and recovery.  But what's equally beneficial about compression is the fact that they reduce muscle vibration, which results in muscle fatigue.
Increased blood flow is going to help improve your performance and decrease the rate of fatigue of your muscles. It will also help you to recover quicker, meaning that you will be ready for your next workout, so you can train harder.
Shop Playtri for all your running needs ~ our expert sales staff will set you up with the right gear to achieve your running goals!