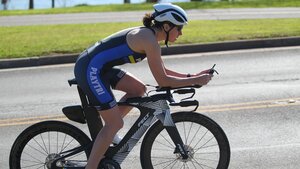 SOLO CYCLING TO MAKE BIG GAINS
Solo Cycling to Make Big Gains
Athletes - we all enjoy riding with others as an opportunity to push ourselves (read: race against other people for free), but in reality, sport science shows us that most of our highest quality training sessions are performed solo because it allows us to do the workout that OUR body needs most for OUR goals. Here are some ways you can get the most out of your solo ride:
1. Work your skills - Practice riding with one hand, taking turns properly and holding the line. Remember to look where you want to go next, and use your whole body to steer! You should also consider having a private lesson if you're not sure how to develop your handling skills.
2. Follow your heart (rate) - Keep HR in Zones 2-3 for longer endurance rides, and practice gearing appropriately to prevent jumping into Zone 4 on climbs and windy sections. This is incredible training for the mental focus required on IRONMAN race days, and will allow you to do more bike training because of the lower level of damage your muscles will sustain. Make sure you have a good HRM and computer to get started!
3. Power your way through - If you've got a power meter, identify your power zones and use those to work your development in interval workouts. At Playtri, we love having a power goal for intervals, and a heart rate goal (usually Zone 2 or 3) for recovery so we get the most out of each interval. If you're new to training with power, we love the Garmin Vector 3 pedals for their price point and ease of install.
4. Train your race brain - We can't ride next to a friend in triathlon. Spending a few hours alone with nothing but our thoughts can seem tough, but it can be essential preparation, especially for longer races. Pick a few positive phrases or mantras to repeat to yourself, and practice correcting (not ignoring) any negative or distracted thoughts that float through your brain.
Keep training, and remember that every workout is an opportunity - approach it with the right mindset, and get the most out of it!
Remember Playtri has everything you need to keep you fit and healthy.  Stop by or shop online 24/7 at Playtri.com